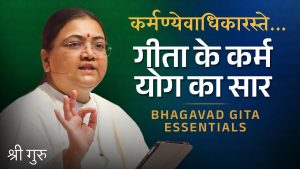 गीता के कर्म योग का सार | Karmanye Vadhikaraste | Bhagavad Gita
short video
गीता के कर्म योग का सार | Karmanye Vadhikaraste | Bhagavad Gita
0:00 / 0:00
Worryied about the outcome of your efforts?
The Bhagavad Gita is a scripture that emerged from the conversation between Lord Krishna and Arjuna on the battlefield of Kurukshetra. In the second Adhyay, Lord Krishna propounds to Arjuna with this famous Sholka: "karmanye vadhikaraste ma phaleshu kadachana (कर्मण्येवाधिकारस्ते मा फलेषु कदाचन। मा कर्मफलहेतुर्भूर्मा ते सङ्गोऽस्त्वकर्मणि)". This single teaching is believed to carry the fundamnetal essence of the entire Karma Yog of Bhagavad Gita — one of the most widely discussed concepts from the scripture.
Here, Sri Guru elaborates on the four essential principles of Bhagavad Gita's Karma Yog.