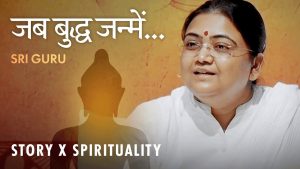 जब बुद्ध जन्में… | A Story of Lord Buddha's Birth | Buddha Purnima
short video
जब बुद्ध जन्में… | A Story of Lord Buddha's Birth | Buddha Purnima
0:00 / 0:00
जब एक मुनि ने बुद्ध का दर्शन किया… Story of Lord Buddha's Birth | Buddha Purnima — Sri Guru
This is the story of what happens when Asit Muni, a monk on the cusp of liberation, comes to visit Kapilavastu with one purpose in mind — to see the newborn son of King Shuddhodana and Queen Maya.
On the pious occasion of Buddha Purnima, Sri Guru narrates the exhilarating moments when Asit Muni, the monk revered by kings and commoners alike, witnessed the Divinity of Siddhartha Gautam, the infant prince whose fate would soon steer him on an extraordinary journey to Enlightenment, and whose impact on the world would continue to echo for generations.
Using this Buddhist tale, Sri Guru draws a clear contrast between two journeys — one having the invaluable guidance of a compassionate Sadguru and the other without.