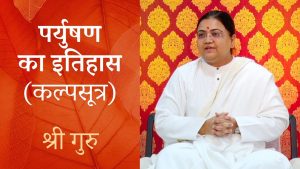 पर्युषण का इतिहास (कल्प सूत्र) | The History of Paryushan
Paryushan Parv 2022
पर्युषण का इतिहास (कल्प सूत्र) | The History of Paryushan
0:00 / 0:00
The origins of Paryushan Parv date back to the 12th century. It initially originated as a grand opportunity of inner cleansing for any person traversing the spiritual path, and wished to know oneself. However, over time and with the deterioration of dharma, this practice got encaged in the hands of religion- with the onset of Paryushan, people belonging to the Jain community all over the world gather to celebrate this festival. They enter into Sainyam and recite stories from the 'Kalpa Sutra' (considered one of the most important texts in Jainism), without knowing the immense potential of transformation it holds for every individual.
Often called "Parvadhiraj Paryushan Mahaparv", these are the magnificent 8 days of inner cleansing by deepening the roots of Sainyam and Sadhana within every seeker. The recitation of Kalpa Sutra during Paryushan is an age-old practice envisioned by our saints, which holds great spiritual importance. Just as precious as the essence of the sutras, the compilation of Kalpa Sutra itself has a rich history of origin, which much later was bestowed upon the common man. The journey speaks volumes of its relevance in every person's life.
Learn about the opulent history of Kalpa Sutras and Paryushan Parv in Master's own words to understand its significance, thereby diving deeper within during this festival of Sainyam and Sadhana..!