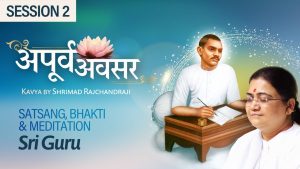 Apoorva Avsar – #2
Apoorva Avsar
Apoorva Avsar – #2
0:00 / 0:00
Paryushan Parva is a revered 8-day celebration observed in Jainism since over 2500 years. These 8-days are dedicated for making concentrated efforts towards one's inner realisation.
Every year, SRM celebrates Paryushan Parva with a lot of zeal — in Satsangs, Bhakti, Meditations, Tapasya & more. This year, we will celebrate the Paryushan Parva in an online format. Throughout the Paryushan, Satsangs on Apoorva Avsar will be streamed live on YouTube every evening, along with re-telecast of Kshamapna Path on Arihant Channel on television.
SRM wishes everyone a very auspicious Paryushan Parva!