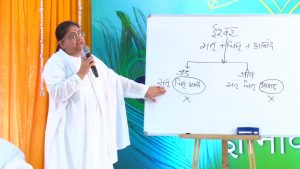 Bhagavad Gita #33
Bhagavad Gita
Bhagavad Gita #33
0:00 / 0:00
April 23, 2017
Ashok Vihar, New Delhi

Adhyay 07 - Gyanvigyanyog | Shlok 15 – 30 / 30

Important message:
There had been a technical problem while processing this Satsang, which also lead to some loss of data. The Seva Team has tried to compile as much data as it was possible but you may notice frequent cuts during the video. We regret for this inconvenience. –SRM's Seva Team
Topics included:
1. श्रीमद् राजचंद्र वाचनामृत अंश (158, 159, 160, 161)
2. चार प्रकास के भक्त
3. देवताओं की शरण क्या?
4. स्वरूप समझने में असमर्थ दो वर्ग
5. ईश्वर को जान पाने वालों के लक्षण