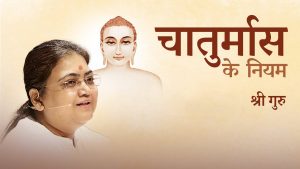 Chaturmaasik Niyam 2022
In our scriptures, the period of Chaturmaas is regarded as a time to dive deep into Sadhana. During these four months, the energies of Mother Earth are so powerful that even a small act of goodness has a magnified outcome. Similarly, our wrongful actions tend to have more serious consequences. This is why as per the Guru-disciple tradition, we should engage in more and more righteous practices during Chaturmaas.
Remember, that the purpose of these guidelines is to strengthen our physical and mental discipline. Therefore, it is essential that we carefully assess our individual capacity and preparedness before adopting these guidelines in our daily lives. Excessively straining the mind and body never leads to spiritual progress. Evolving our intellect is what awakens our inner virtues and nurtures them on the path of spirituality.
So let us whole-heartedly embrace the Chaturmaasik guidelines of the year 2022 and keep elevating the purity within, throughout these four months.