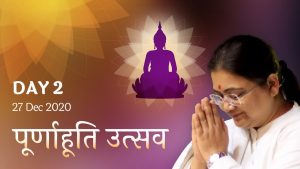 [Day-2] Poornahooti Utsav — Buddha's Dhammapada | Satsang 42
Buddha's Dhammapada
[Day-2] Poornahooti Utsav — Buddha's Dhammapada | Satsang 42
0:00 / 0:00
December 27, 2020
New Delhi

वर्ग 26 - The Brahmana

An integral part of Buddhism, the Dhammapada contains powerful commandments from Lord Buddha.
Sri Guru brings out the essence of Dhammapada by combining Buddha's wisdom with today's neuroscience, adding practicality to the concepts. These sessions are followed by different meditation techniques to empower inner experiences.
Set on this amazing 2-year journey of mastering your mind and evolving spiritually.
Get reference book: https://srmdelhi.org/product/dhammapada-book-print/