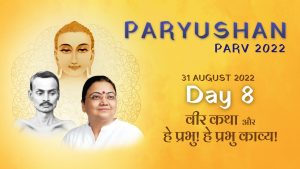 Day 8 – Paryushan Parv | Samvatsari Alochna and Meditation
Paryushan Parv 2022
Day 8 – Paryushan Parv | Samvatsari Alochna and Meditation
0:00 / 0:00
Deepen the roots of Sainyam and Sadhana, through 8 days of continuous Samagam with Sri Guru. Join us in celebrating these pious days of Paryushan!
This year, the Master will be inspiring us with numerous life stories of Lord Mahaveer, through Veer-Katha.
Furthermore, Sri Guru will propound upon Shrimad Rajchandraji's Nij Dosh Avlokan Kaavya (He Prabhu! He Prabhu! — a divine poetic composition that allows the seeker to dive in self-introspection and eliminate the vices within.