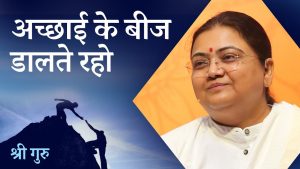 Good Things Take Time | An Insightful Story by Sri Guru
short video
Good Things Take Time | An Insightful Story by Sri Guru
0:00 / 0:00
In modern times, doing good can seem unfulfilling. While it is widely preached as a moral imperative, practicing goodness often lacks proper inspiration, partly due to lack of any immediate impact or reward. Whether it's giving up one's time, wealth, or comfort, doing the right thing often means putting the needs of others before our own. This can be a difficult pill to swallow, especially in a society that often values individualism and personal gain over collective well-being.
But doing good is essential, as it sustains our humanity and saves us from becoming a community of indifferent people, deaf and blind towards the need for collective good.
Here, Sri Guru narrates a story that restores our belief in spreading goodness.