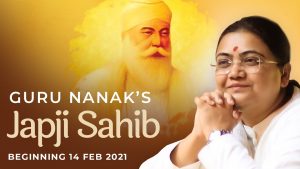 Guru Nanak's Japji Sahib – New Series beginning 14th Feb 2021
short video
Guru Nanak's Japji Sahib – New Series beginning 14th Feb 2021
0:00 / 0:00
Japji Sahib is the divine composition by Guru Nanak Dev ji, the founding Guru of Sikhism. Propounding the philosophy of Oneness, it honours the lineage of the enlightened masters – who are essential for the spiritual growth of humanity.
In this series, Sri Guru will explore the spirituality through Sikhism. Her logical & inspiring explanations will help us understand Guru Nanak's perspective, value His commandments and ultimately move further on the path of Self-realisation. Consisting of Talks, Meditation, Bhajans & much more, this series is scheduled to be held live in Delhi, while also being streamed on platforms like YouTube for everyone to watch for free. At SRM, our primary aim is to inspire seekers to explore their inner world with clarity & right techniques. We invite you to be a part of this journey!
As the two-year journey of Lord Buddha's Dhammapada comes to an end, Sri Guru summarises the scripture for the modern world; backing with religious facts, science & psychology. Read the Blog here:
https://srmdelhi.org/blogs/2021/01/dh…
Shrimad Rajchandra Mission, Delhi (SRM), founded in 2010 by Sri Guru, is a non-profit, charitable, volunteered organization essentially working in different ways to connect and push people inwards. Named after a profound Saint – Shrimad Rajchandraji, whose teachings pave the base of the Mission; the organization is not bounded in any one sect but unites the essence of all into one, recognizing the very reason and logic behind every concept, every religion, every symbol and every testament. The Core Principles of Organisation are "Love for all – Oneness", "Selfless Seva", "Discipline" and "Meditation".