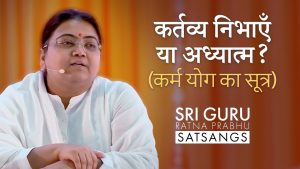 Krishna's Karma Yog – कर्तव्य निभाएँ या अध्यात्म?
short video
Krishna's Karma Yog – कर्तव्य निभाएँ या अध्यात्म?
0:00 / 0:00
Our worldly duties and responsibilities will forever keep us occupied, no matter what stage of life we reach. And since time immemorial, they have stopped us from embracing the path propounded by a Higher, Purer being. The hesitation or the dilemma to leave the worldly duties is one that often troubles a seeker.
Thus, at what point should we put aside our duties and prioritize Satsang over Sansaar?