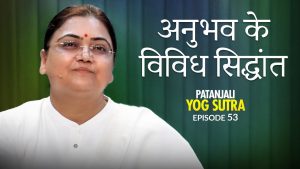 Patanjali Yog Sutra | EP #53 | अनुभव के विविध सिद्धांत
Patanjali Yog Sutra Curated
Patanjali Yog Sutra | EP #53 | अनुभव के विविध सिद्धांत
0:00 / 0:00
What drives our experience?
We exist in the midst of innumerable objects, people, events, thoughts and emotions. All that we perceive through our mind and senses often is in stark contrast with what resides at level of our Chitta (consciousness). This contrast inevitably births a conflict, and thus needs to be understood in order to be resolved.
Here, Sri Guru explains certain fundamental principles governing our experience, using the Yog Sutras of Maharishi Patanjali.