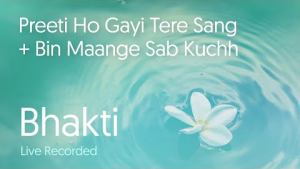 Preeti Ho Gayi Tere Sang + Bin Maange Sab Kuchh – Bhakti
Sadguru's compassion and unconditional love transcends us towards that infinite and eternal happiness.
Let us rejoice in this soulful expression of unconditional love through a delightful medley presented by the Bhakti Team during Shri Dhammapada Satsang #29
Shrimad Rajchandra Mission, Delhi (SRM), founded in 2010 by Sri Guru, is a non-profit, charitable, volunteered organization essentially working in different ways to connect and push people inwards. Named after a profound Saint – Shrimad Rajchandraji, whose teachings pave the base of the Mission; the organization is not bounded in any one sect but unites the essence of all into one, recognizing the very reason and logic behind every concept, every religion, every symbol and every testament. The Core Principles of Organisation are "Love for all – Oneness", "Selfless Seva", "Discipline" and "Meditation".

More Satsang, Bhakti and Meditation follow us on:
Facebook:
https://www.facebook.com/shrimadrajchandradelhi/

Instagram:
https://www.instagram.com/srmdelhi/

Blogs: https://medium.com/@shrimadrajchandradelhi