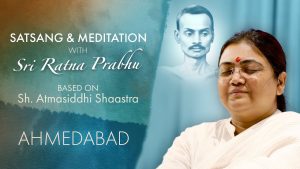 Sh. Atmasiddhi Shaastra | Ahmedabad | 2022
SRM Delhi is organising Sri Guru's first Samagam of the year 2022 with a Satsang & Meditation session at Ahmedabad, Gujarat.
Sri Guru propounds on Sh. Atmasiddhi Shaastra – a divine composition by Shrimad Rajchandraji, that conveys the entire path of spiritual elevation and liberation in just 142 verses!
Sri Guru's book " Sh. Atmasiddhi Shastra Adhyatma Vivechan (Hindi)" takes an in-depth approach to highlight a seeker's journey from ignorance to the ultimate goal of this human life – the attainment of Moksha (liberation). Blessed and upheld by numerous spiritual masters and saints of the current times, this book preserves the sanctity of Shrimad Rajchandraji's words, while giving us a whole new perspective to progress on the path of Dharma.
Shri Atmasiddhi Shastra Shri Atmasiddhi Shastra (Hindi)
Avneesh Shisodia & Disha Jain
A melodiously rendered 42-minute track mixed under the direct vision of Sri Guru, voiced from heart by Avneesh Shisodia and Disha Jain
---