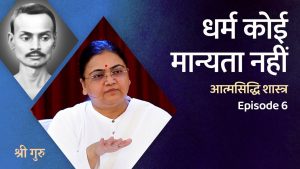 धर्म कोई मान्यता नही | Shrimad Rajchandra Atmasiddhi Shastra Ep#6
Sh. Atmasiddhi Shaastra Curated
धर्म कोई मान्यता नही | Shrimad Rajchandra Atmasiddhi Shastra Ep#6
0:00 / 0:00
As human beings, we are natural seekers of knowledge. That is one reason our culture highly regards religious scriptures. But what happens to the knowledge pursued merely for accumulation and self-glorification? Shrimadji says it is Arid Knowledge (Shushk-Gyaan).
Just as practicing mindless rituals does nothing but dig a void of inner dissatisfaction, pursuing arid knowledge of scriptures too keeps us away from meaningful inner experience. The fifth Gatha of Shri Atmasiddhi Shaastra points at this inadequacy of a Shushk-gyaani. They either are strongly opinionated in the wrong direction, or their knowledge has no impact on the agitation they experience due to attachments.
After an elaborate description of a Jad-kriyavadi, Sri Guru in Episode#6 describes the state and conduct of a Shushk-gyaani.