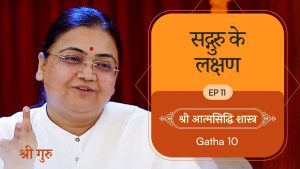 सद्गुरु के लक्षण | Shrimad Rajchandra Atmasiddhi Shastra Ep#11
Sh. Atmasiddhi Shaastra Curated
सद्गुरु के लक्षण | Shrimad Rajchandra Atmasiddhi Shastra Ep#11
0:00 / 0:00
Sadguru is a mystic presence, a beautiful anomaly in this otherwise mundane world.
A blessed occurrence that can transform a generation. To perceive a Sadguru, one need not heed the endless commentaries trying to confine their existence to mere external appearance, one need not fall prey to the worldly opinions that lack depth. To perceive a Sadguru, one needs devotion and the right set of benchmarks.
These benchmarks not only guide one to identify a Sadguru, but also keep their own reverence alive and progressing. And these benchmarks can only be revealed by the one who has witnessed the magnificence of their nature, one who constantly revels in the expanse of their Anand.
In Episode 10, Sri Guru sheds light on one of the most significant verses of Shri Atmasiddhi Shastra, one that guides a seeker about a Sadguru's five fundamental benchmarks that a Sadguru has blossomed within them in abundance.