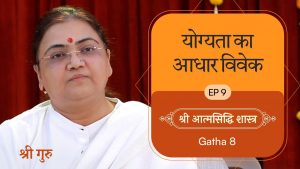 योग्यता कैसे बनती है? | Shrimad Rajchandra Atmasiddhi Shastra Ep#9
Sh. Atmasiddhi Shaastra Curated
योग्यता कैसे बनती है? | Shrimad Rajchandra Atmasiddhi Shastra Ep#9
0:00 / 0:00
To make decisions based on intellect, and not under the influence of moods — that's an Aatmarthi. Without this competence, we often end up choosing 'easy' over 'right'. Our comforts and conveniences determine our actions. But unless we dare to step out, how can we expect drastic transformation to occur in our lives?
In Gatha 8 of Sh. Atmasiddhi Shaastra, Shrimadji provides the gist of the entire spiritual evolution. This Gatha encompasses a path that is universally applicable to every individual who seeks liberation.
The key to becoming an Aatmarthi lies in increasing our 'Yogyata' or expanding our consciousness. As we become more 'Yogya', our ability to choose right becomes effortless. However, the impurities of Ahaar, Bhay, Maithuna and Parigrah Sangna deplete our energies and prevent us from becoming Yogya.
In this episode, Sri Guru explains this concept in detail and provides precise antidotes for preventing our doshas and impurities from overpowering our mind.