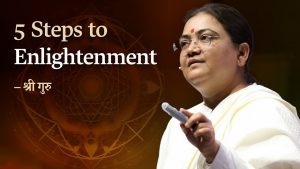 The 5 Steps to Enlightenment: A Guide from Sri Guru
short video
The 5 Steps to Enlightenment: A Guide from Sri Guru
0:00 / 0:00
Theory, Ethics, Practices, Transformation and Transcendence – these 5 points encapsulate the purpose of the existence of SRM. Of these, Theory is the foundation that drives our spiritual evolution.
Sri Guru believes 'Clarity is Power, while Confusion is Weakness'. Hence, she has always laid emphasis on imparting clarity of concept through various theories.
The root cause of all our sufferings is our false identification of self, or ignorance. We are constantly trapped in delusion, that blurs our understanding.
In this excerpt from Yogvaashishth Maharamayan, Sri Guru highlights the numerous ways in which we falsely limit our perception of Self.
Watch the complete episode to gain the spiritual wisdom essential to tread on the journey of self-discovery.