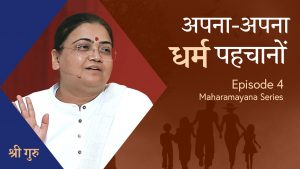 Yogvaashishth Maharamayan Curated
अपना अपना धर्म पहचानो | Shree Ram Ki Seekh | Maharamayana Series Ep #4
Most people associate Dharma with the mere actions of performing religious rituals. Some even go to the extent of moulding their existence according to this pseudo-dharma, organised as religious communities. Forming one's identity based on which religious community he belongs to, creates a confined perception of Self, which in fact gives rise to aversion and hatred in the name of religion. Consequently, a term as common as 'Dharma', remains far estranged in practice.
Our scriptures encapsulate a much more comprehensive definition of Dharma. An interpretation that proves Dharma to be not a momentary activity, but a persistent shift in attitude. No matter whether you are a Hindu, Muslim, Buddhist, Jain, Sikh or a Christian, this eternal definition of Dharma is a yardstick for every individual that wishes to align himself with the divine.
Episode #4 emphasises on the identification of one's Dharma, Adharma and Swa-dharma. Sri Guru, through the reference of our Upanishads, explains this universal outlook of Dharma that remains applicable for people of all religions, caste, ethnicity and age groups.