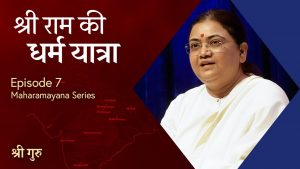 श्री राम की धर्म यात्रा | Shree Ram's Journey and Sage Valmiki | Maharamayan Series Ep #7
Yogvaashishth Maharamayan Curated
श्री राम की धर्म यात्रा | Shree Ram's Journey and Sage Valmiki | Maharamayan Series Ep #7
0:00 / 0:00
Ramayana is a scripture that's revered like no other. Yet, most people don't know what it fundamentally stands for. The term 'Ramayana' literally means "The March (ayana) of Lord Ram" – a journey to reinforce the reign of Dharma among the masses. Every step of this journey was taken with Dharma at its core, and for the betterment of entire humankind. A journey so wholesome shows Shri Ram as the embodiment of the highest and purest possibility of Human Life. The manifestation of a divine existence such as Ram can only come from One who has experienced the virtues of Ram within.
As a literary work, the true origins of Ramayana are debated. But the author, the one who personified the divine presence of Shri Ram in the form of this timeless epic, was Maharishi Valmiki. Often referred to as Adi Kavi, the tales of His existence also remain mystifying. Yet, what can be derived is that Maharishi Valmiki went through a journey from ignorance to dispassion (vairagya).
Episode#7 brings you the tale of Maharamayana's Creator. Fill with reverence for the scripture and its architect, as they continue to inspire countless seekers, even after several centuries.